A beautiful cottage in a big garden of another property. Hveragerdi is a small town and is inside the Golden circle. Supermarket, bakery, tourist info, bank and postoffice are all within walking distance. The famous hot spring (for bathing) in Reykjadalur is a 45 min walk away. The cottage has one bedroom with a queen size bed, one double bed in the living area and one double bed upstairs (airbed). It has a microwave oven and a small stove and all the basic cooking equipments.
What guests are saying:
"Super great cottage !!!! we were completely satisfied there was nothing missing the hostess is just an angel came to meet us so that we felt at home. The homemade bread was awesome. She was always at our side with advice and action. Our honeymoon couldn't have gone any better. Highly recommended, again at any time!!!! PERFECT PERFECT PERFECT !!!!!"
One of the oldest houses in Hveragerði, south of Iceland in the geothermal area with hot springs and beautiful peaceful landscape. Within walking distance to hiking and hot springs, Reykjadalur. Cozy house where you can relax and feel like home.
What guests are saying:
"The location was a quick trip from Reykjavik and a nice starting place for the Golden circle. There were two of us, and the space was large with plenty of quirky decorations and nice touches throughout. Easy self check in. Would recommend!"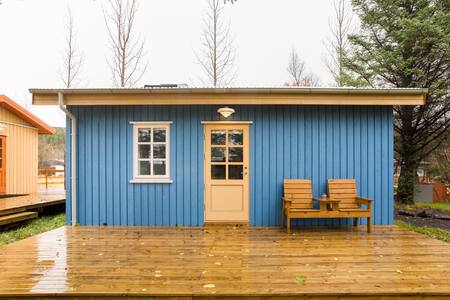 PLUS
Tiny house · 5 guests · 3 beds · 1 bath
Explore Hot Springs and Lava Fields from a Backyard Cottage
Unwind in a hot tub on a deck at any time of year in the hot springs capital of the world. Relax inside this spacious cottage, too, cooking or spread out on a couch watching Netflix. A bunk bed in each bedroom creates flexible sleeping options.
What guests are saying:
"This was the most incredible Airbnb we have ever stayed in! Everything was perfect. We got in late, and the host texted to check to make sure we okay since we had not arrived yet. There is geothermal sauna and hot that is perfect after a long day! The floors are heated and there is a towel heater that makes getting out of the shower so much easier. There was a record player and every detail was beautiful. It was easy to find and the view was stunning. There was also a washer and dryer so we could dry our wet snow gear after a day visiting the hot spring river (which is a must do that is only a 5 minute drive from the Airbnb). We suggest hiking to the hot spring river earlier in the day so you have more time to swim in the river. Also, if you hike back from the river later in the day the snow starts to cover the trail heads which can make getting back difficult. If you leave by noon you will have plenty of time. The hot spring river is extremely warm and the hike is beautiful but very strenuous in the snow. There is also a geothermal brewery 5 minutes away called Olverk Pizza and Brugg. It was wonderful, and we wish we could have stayed longer!"