Vacation rental houses in Phoenix
Book unique vacation rental houses, apartments, and more on Airbnb
Top-rated houses in Phoenix
Guests agree: these stays are highly rated for location, cleanliness, and more.
Home in Coronado Historic District
Elegant Study of Light in Arty Coronado Historic
A zen-like designer creation with a focus on the natural light throughout this historic 1931 brick duplex. Original wood floors and casement windows, with elements of functional new in the kitchen and bathroom. Suspended bed. Private patio with soaking trough and hammock. Short walk to some of the best local foodie destinations. 5 minutes to downtown, and yet in the heart of one of the most vibrant Phoenix neighborhoods. Owned, designed and operated by a local team with deep Airbnb experience.
Home in Camelback East
Centrally Located Renovated Guest House
Phoenix Biltmore/Arcadia area 400 sf Guest House with private entry, full kitchen and bath. Ideal central location! 10 min from Sky Harbor and Downtown Phoenix, 15 min from Old Town Scottsdale and Downtown Tempe (driving times). Parking included. With my simple self check in process you can check in anytime after 3 PM. Features central A/C and heat, 650 thread count and 100% cotton sheets, 50 mbps WiFi, 40" flat screen TV, along with many more amenities! Feel free to contact me with questions.
Home in Camelback East
Historic PHX, AZ homestead for modern travelers.
Phoenix, Arizona at it's best. Apartment is nestled in nature and filled with simple joys . Comfy outdoor seating under orange trees, access to airport, hiking, or downtown in 10 minutes due to the fantasic location. Yet, feels like you are in an old AZ orange grove. That is because it is! This home is located in the historic district of Phoenix Homesteads, the oldest residential neighborhood build during the New Deal as a farming community. Home has full kitchen, bath, bedroom, and yard.
Stay near Phoenix's top sights
Desert Botanical Garden
Botanical Garden · 379 locals recommend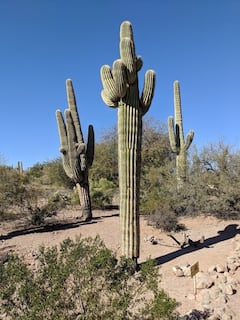 For a peaceful walk with beautiful scenery I've been here several times. And during part of the warmer times of the year there are so many butterflies to be seen nearby. Around the Christmas holidays they normally have live music Christmas lights and my favorite was the hot apple cider drinks.
Papago Park
Park · 228 locals recommend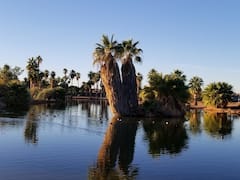 Beautiful area of ponds, pinic areas, bike trails and hike trails. Their are a few parks with ponds to check out some Arizona wildlife. The Hole-in-the-Rock is the reddish mountain formation. The hike trail there is easy and short, but again, a popular spot for sunset views of Tempe.

Tips from Phoenix locals
Get advice about the city from the people who know it best. Local hosts share their tips and recommendations for travelers like you.
"Hiking shoes Bring with you a pair of shoes for hiking. the trails around the valley are spectacular."

"Bring clothing for hot climates. if you aren't used to hot weather it can feel extra hot. Outside of what you normally would like to have with you when you travel, here are a few things we recommend you bring. swimwear - swimming season for kids is a little longer than adults as kids tend to tolerate the colder water better than adults. swimmable pool temperatures are easily seen mid-may-mid oct for kids. the hot tub is always a good idea though! sandals- the ground is really hot during summer and warm most other times of the year. your favorite water bottle (empty if you are flying in). we might be cooler in the winter but it's still dry. the need to ensure you hydrate cannot be understated here!"
What's the best way to get around?

"Phoenix is a driving city. Unless you drive your own car, plan on using uber and lyft."

"Hov (aka carpool lanes) rules & rush hour Hov lanes on our freeways, the left lanes are often designated hov lanes. hov stands for high occupancy vehicle (defined as 2 or more in a car). lanes may be entered or exited at anytime. see the freeway signs for appropriate hov times. when not hov times, the lanes may be used as regular freeway lanes. rush hour traffic patterns traffic generally flows toward phoenix in the am and away in the pm. rush hours are approx 6:30-9:00 am, and 4:00-6:30 pm and can greatly impact travel time"
What's the local culture like?

"Places in phoenix These are some things you might consider: the heard museum, heard.org "the foremost showcase of native american art and culture in the u.s., the heard museum reveals the cultures of tribes in the region through exhibits, demonstrations alive performances and displays the work of contemporary native american artists. artists demonstrate their work during the week and musicians perform on most weekends."; the desert botanical gardens dbg.org.; the musical instrument museum mim.org. these are all places that are interesting and unique to phoenix. there is a restaurant near here called valle luna that serves good, authentic mexican food. they tend to get busy at night so earlier dinner or lunch is better. matt's big breakfast is downtown and considered to be one of the best. first watch is also a good comfortable place for breakfast. the churchill is a small group of stores set up in large containers. https://thechurchillphx.com/ the yard is a fun place to eat. don't have the web address but you can find it on yelp. there are a lot of great day hikes and day drives. i have information about some of them in the room."

Daniel And Terry

Lives in Phoenix

"Expect long delays at restaurants from mid october - mid april Our winter months (oct-apr) bring lots of visitors to the phoenix area. this makes for long lines everywhere, and odd traffic patterns."
What are some useful phrases?

"Use manners The best advice i can offer is to use manners. what do i mean by that? say "hello". when you enter a store, say hello to the clerk. say hello when you meet someone's eyes while standing in line. etc. say "please" and "thank you" at appropriate times like when asking for something or when someone does a kindness toward you. say "excuse me" or "sorry" when you bump into someone or make an error. you can always say these even when it's not your fault because you may not realize that it was actually your fault."
Sun-bathed Phoenix, Arizona's capital and largest city, rules the Valley of the Sun, a metropolitan region that also includes such bustling regions as college town Tempe and swanky Scottsdale. A former agricultural hub, Phoenix is now the state's economic and cultural lynchpin. The city is home to world-class museums, nearly 200 golf courses, and — thanks to a population that is more than 40 percent Hispanic or Latinx — some of the best Mexican food to be had north of the border. The city also attracts adventurers who want to hike through storybook desert landscapes dotted with cactus and dramatic rock formations, which can be found just outside the city.
---
When is the best time to stay in a vacation rental in Phoenix?
This is the desert, and it's hot. From June through August, it's not unusual to experience temperatures over 100 degrees Fahrenheit, dipping to 90 and 80 degrees in September and October. November through March bring temperatures in the 60s and 70s with dips into the 40s, and in April and May, things soar back up to 80 and 90 degrees. Overall, the city sees 300 days of sun and very little rain. Pack for hot weather, and don't forget sunscreen. During winter, bring layers for cooler mornings and evenings.
---
What are the top things to do in Phoenix?
Camelback Mountain
This mountain earned its name from a pair of peaks that resemble the hump of a camel's back, and its reputation as a tough but rewarding hike thanks to panoramic views of the Valley of the Sun. There are two trails to take to the 1,420-foot summit, the Cholla Trail and the slightly harder Echo Canyon Trail. Both are challenging, featuring rocky terrain, steep ascents, and some climbing. As you hike, you'll be surrounded by the colorful pink, orange, and red hues of the sandstone terrain from which saguaro and prickly pear cactus grow. Camelback Mountain is located just twenty minutes' drive from downtown Phoenix, so you won't have to wait long after finishing to reward yourself with a snack and a cool drink.
Desert Botanical Garden
Looking for something less taxing than a sweaty mountain hike? Explore more than 50,000 plant displays in this gorgeously landscaped 140-acre botanical garden devoted to desert flora. Thousands of agave and cacti grow here, alongside 485 rare and endangered species. Five themed trails cut through the gardens, which grow against the backdrop of the Papago Buttes, a cluster of striking red rock formations. The garden also hosts musical performances and art installations. Grab a quick bite at the cafe, or enjoy a sit-down meal of farm-to-table fare at the garden restaurant.
Musical Instrument Museum
Strum a Peruvian harp or try your luck at coaxing sci-fi-style wails out of a Theremin at this utterly unique museum showcasing more than 8,000 musical instruments from more than 200 countries. No, you can't touch everything here, but a highlight for many visitors (especially kids) is the Experience Gallery, where you can bang gongs and thump on massive communal drums. A STEM gallery explores the science of soundwaves and frequency, while the Mechanical Music Gallery showcases player pianos, automatons, and music boxes that play themselves.