Enjoy the view towards the Gulf of Nicoya, with the sound of cypresses and birds, surrounded by nature. This space will make you enjoy incredible relaxation. Savor a cup of coffee while watching the sunset over the sea. In the rainy season, relax in the haze and rains while taking a hot bath in the tub.
What guests are saying:
"On my first occasion using Airbnb I meet a wonderful host, the spot is impeccable, relaxing, she pays attention to every detail, the views on the site are breathtaking, it is literally like being in heaven, and in turn super private the place , it helped me to relax from the bustle of the city just one hour from it by car"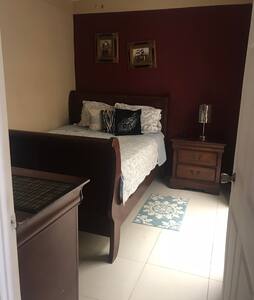 SUPERHOST
Entire house · 4 guests · 2 beds · 1.5 baths
Modern, comfortable & cozy house 2km from Center
Modern, comfortable and cozy house 🏠
What guests are saying:
"We lived in Arelys' home a month & were very comfortable. The kitchen was very well equipped and we were able to cook everything - plus it had nice big window facing onto back patio. Every Friday afternoon or Saturday morning we bought our produce at San Ramon's great farmer's market. Comfortable bed in dark, quiet bedroom. Just a block from a bus stop to San Ramon, which is only 10 minutes away. Also in route to Arenal or Zarcero... San Ramon is a central location to going to many tourist areas and to all the central meseta - metropolitan area of Costa Rica. The neighbor/housekeeper did a remarkable cleaning every week and helped us with any questions. Not seen in the photos is that the house has a garage for the car and electric gate - we felt very safe. I know San Ramón quite well, and recommend staying here."
Our independent and equipped suit, both for cooking and teleworking in a rural and quiet environment, where you can enjoy isolation and not feel shut up. The property has a spectacular view surrounded by nature with views of three volcanoes to the east, and to the west you can see the sea, and at night the lights of the city, so you can enjoy wonderful sunrises, dusk and moonlit nights. .
What guests are saying:
"Wonderful! Beyond all my expectations. Maria and her husband were so gracious and welcoming. We had a difficult time locating their place- HINT Google Maps is 50/50 in Costa Rica at best. Felix had to drive out and escort us back to their location and after we dropped our bags off, they were the best of hosts to drive us around San Pedro to get us better acquainted with the lay out of the town and dropped us off to a fabulous local seafood spot in town and delivered us back. If Maria and Felix are not enough to convince you that this is best stay you can ask for- let me tell you about our decision to book this space before meeting Maria and Felix. This was our first trip to Costa Rica and we were celebrating our 25th anniversary, so I was tempted to splurge a little and check at Blanca Villa in the Los Angeles Cloud Forest, but in the end in reading the reviews for Maria's place which miraculously was available- I really felt that we were more Airbnb type than resort type- I've never been so pleased to be absolutely right. Maria's place is atop a hill and is apart of Felix's family history. There are four generations currently residing in the area. The best part is that atop this hill is the Cloud Forest. I woke the first morning to be mesmerized by the swirling clouds just outside our picture windows. I must have spent an hour just emerged in that wonderous existence. Then to make things even better Maria offered us breakfast service (for a more than reasonable fee) and I had the first black coffee ever and it was so delicious. We did end up visiting the Los Angeles Cloud Forest (40 mins drive from here) and it would have fallen short of what we were able to experience at Maria's place. Yes, there were hikes and the site was beautiful but we would have been bored after the first day. With Maria's place there was the town right at foot of the hill to explore with wonderful locals to meet. There are day trips to volcanos, coffee plantations and so much more. The only thing to be aware of is that the wind does howl through the house- but that's such a small price to pay for the luxury of experiencing the Cloud Forest setting. We met Maria and Felix's sons and they speak excellent English and are well mannered and charming young adults. Felix was so sweet that when he heard how much I loved the coffee he gifted me some. I feel our stay afforded us a great stay and new friends."