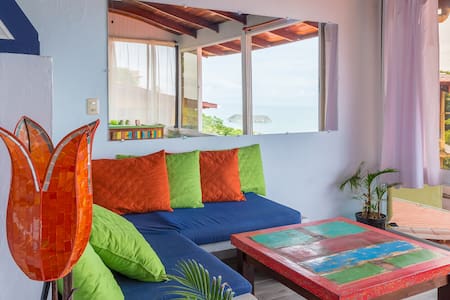 SUPERHOST
Entire condominium · 2 guests · 1 bed · 1 bath
OCEAN VIEW PENTHOUSE SUITE! Fresh Tropical Vibe!
Experience Pura Vida in the Penthouse Suite of a four-story Villa at the top-of-the-hill in Manuel Antonio! Spectacular Ocean, Jungle, and National Park views! Our Penthouse Suite is an excellent choice for Couples and Solo Travelers to Manuel Antonio looking to experience an Upscale Vacation Rental in a Convenient Location at a Great Value!
What guests are saying:
"One of the most beautiful places I've ever stayed at! The location is right in the middle of everything so it's walking distance for a lot of the attractions. Beach towels were provided which was so thoughtful and going above and beyond (especially since we forgot to bring our own lol) I would love to stay here again."
SUPERHOST
Entire house · 13 guests · 7 beds · 4.5 baths
10% descuento nacionales, Ocean view Luxury Estate
Home w/ Private infinity pool maintains social distancing. New Sanitizing Protocols implemented. Luxurious, private jungle oasis home in absolute heart of Manuel Antonio - 3 BD plus loft/3BT plus 2 half BT, sleeps 13 and has a private infinity edge pool. Lush, tropical gardens surround home with picture-perfect ocean view sunsets. Top-of-the-line mattresses. 600 sq ft deck w/ roof and BBG gas grill. Large pool with 800 sq ft of tanning deck. Daily Monkeys, butterflies, sloths, birds.
What guests are saying:
"I spent a lot of time reviewing the former Guest's experiences as posted and I was quite quite impressed. As a former President of the platinum advisory board with a major hotel corporation and almost 19 years of "lifetime Elite" status with them I traditionally have always vacationed at hotels. As of the last five years 90% of my travel has been with Airbnb. I'm finding the experiences incomparable. And this property is one of the highest rated I've ever seen on Airbnb. Rather than be redundant, because every review talks about the beauty of the property. The incredible immersion with nature. How spotless the home is. How incredible easy it is to work with the host. I would love to try to offer some additional insights. First off I feel a few travel hacks might be useful. Number one, as you're making your way most likely from San Jose to Manuel Antonio there's a small town about 15 minutes outside. Stop there and stock up on essentials. Bottles of water, milk for the coffee, and any type of food that you choose to maintain in the refrigerator. The kitchen is very chef friendly. If you go to the market across the street which claims to be organic market, although interestingly it also peoclaims itself a liquor store. in hindsight that's probably brilliant marketing because you leave no stone unturned! However if you thought Whole Foods was expensive, this makes Whole Foods look like Supervalu market! We literally got water coffee milk and a few other odds and ends and spent $200 for one bag of groceries. So my suggestion is, do like the locals do. When I walk into a restaurant or supermarket and I don't see any locals eating there I know it's a tourist trap. There are two main beaches. There's a big tourist beach which kind of has the feel of Venice Beach California or Hollywood Beach Florida. There's also a more remote beach that's very private although you have to walk down a somewhat steep tricky incline path but once you maneuver it you're at a beautiful beach oasis! (Christopher the Guest liaison can give you more specifics) The best restaurant that we discovered was actually a little falafel house just a few yards away from the house. The best pizza was the wagon wheel restaurant. There is a wonderful little bakery on your way down to the tourist beach on the right hand side that makes amazing coffee and has fresh bakery products that are very reasonably priced. Christopher also referred a wonderful personal driver by the name of Roni. He was always attentive and available for us whenever we needed to go someplace and was about the same price as a typical Uber. I will say that perhaps the most meaningful experience we had was one that you never want to have while you're on holiday. The very last night my travel companion got very ill. Most likely something he might've eaten that didn't agree with him. But it 10 PM at night his temperature was 102 and it kept climbing, he was also very disorientated. I reached out to Christopher the property manager and within 15 minutes we had a doctor and an EMT by his bedside administering to him. They brought in an IV and pumped him up for the fluids and within 15 minutes he was back on his feet and 100% recovered! Apparently a combination of some sunstroke as it had been almost 100° that day and also probably eating something that didn't agree with him. My point is you can't even get that kind of medical care in the States so quickly! I was expecting to at least pay $1500-$2000 For an emergency late night medical team dispatched to a house that administer the personal IV and other medications. I was pleasantly surprised when the cost for everything was just a little over 300 bucks. Less than the cost of an emergency room visit in the States! It's better to have it and not need it then need it and not have it! But I was so impressed that even that late at night I could get a hold of Christopher and he was involved in something personal but dropped everything to come to our rescue! That is something that you can't put a price tag on and it makes all the difference when you're traveling in a different country in a remote area! I really could continue to go on and on but I'm beginning to think that maybe Airbnb limits how long your testimonials can be! So the last thing I'll add, is I was so impressed by Christopher and by working with Heather. I was so overcome with the beauty of the property and the incredible location. I was inspired to do something that I've never done in all my travels. within 10 minutes of walking into the property, I re-booked my next trip back! I can't think of a greater compliment and testimonial than that factual statement!"
Just renovated, wide open-flat (700 sf ca): sleeping/bathroom + kitchen/dining/living areas are separated by 2 arched walls, wide terrace facing trees/beach. New king-size bed, furniture and appliances, Hotshower. AC, TV, WiFi, gated parking. Literally secluded as part of the National Park and at the same time just 100mt to the beach and to the shops/restaurants/market...